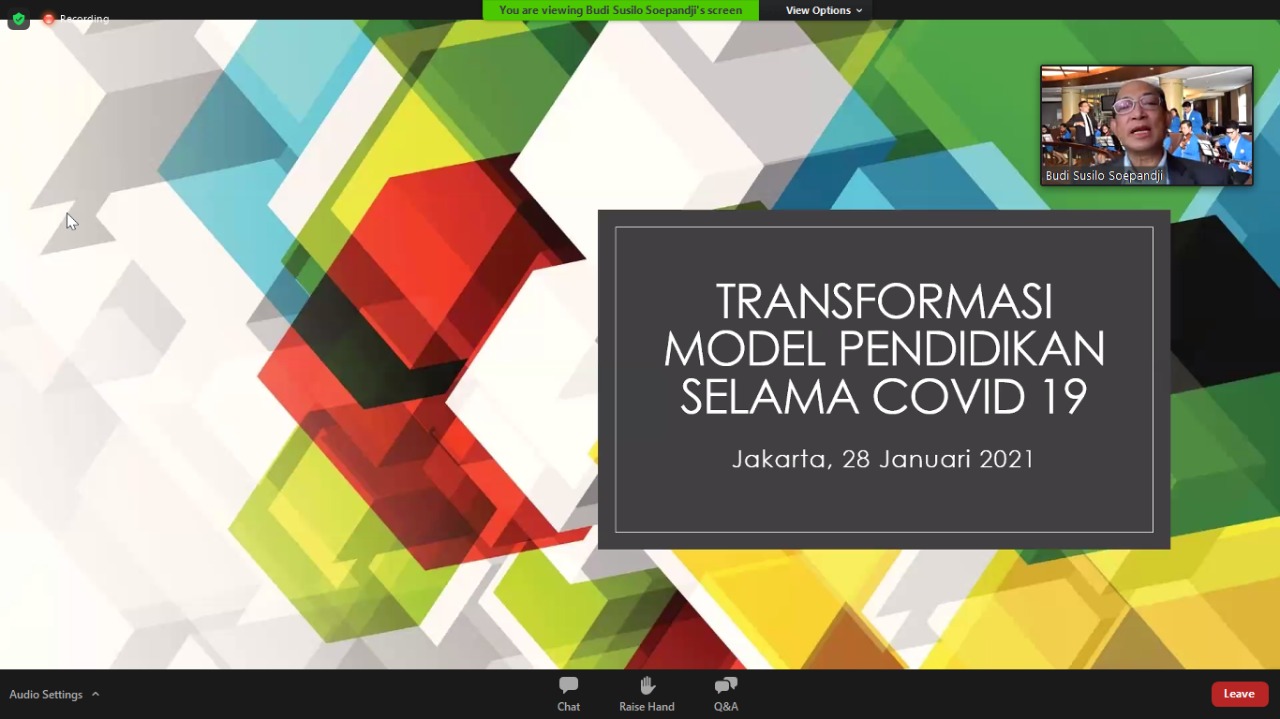 The Covid-19 Pandemic and Leapfrog
22 Feb, 2021
Talking about the Covid-19 pandemic, Prof. Komarudin Hidayat has a story like this. Once, there were two frogs placed in two separate containers. In the first container, the water in which the frog is heated slowly until it boils. Meanwhile, in the second container, the frog is immediately poured with hot water. Which of the two frogs survived?
Correctly! Frog in the second container. Why? Because of suddenly being scalded with hot water, the second frog was startled and immediately jumped out of the container. In the second container, because the water was heated slowly, the frog did not immediately notice the water temperature change. When the water boiled, he realized, but it was too late. The frog finally died.
Was the Covid-19 pandemic the "hot water" earlier? Yes. However, the attitude of several educational institutions in responding was different.
In the United States, several small universities, with fewer than 5,000 students, have apparently responded too late. As a result, they fell to their knees. President University (PresUniv) Rector, Prof. Dr. Jony Haryanto, in his column in Bisnis Indonesia daily (www.ekonomi.bisnis.com) in mid-2020, wrote that due to the Covid-19 pandemic, many small campuses in the US were suddenly empty.
In the US, many small campuses have a boarding system and provide meals for their students. When the Covid-19 pandemic hit, many campuses asked students to return to their homes. Lectures are also held online. As a result, the dormitory was empty. Catering services also stopped. The campus no longer gets income from the two services.
The condition worsened when many high school graduates there, who had registered as students from the campus, finally did not come. Everyone are afraid of the Covid-19 pandemic. As a result, the number of new students decreases, and campus income declined.
JFK University: The Covid-19 pandemic forced campuses to cease operations.
Source: www.collegelearner.com
The situation was hitting small campuses in the US. Several campuses gave up. John F.Kennedy (JFK) University has announced via its website that they have stopped operating in 2020. All students who have already studied and registered there will be transferred to other campuses that are more alert in responding to the Covid-19 pandemic to continue to operate.
A similar phenomenon also occurs in Indonesia. Several campuses reported being overwhelmed to the point that they could no longer afford to finance their operations because many students were in arrears for tuition payments. According to Budi Djatmiko, Chairman of the Asosiasi Perguruan Tinggi Swasta Indonesia (Aptisi), as quoted by Republika (www.republika.id), "There are 70% of students who are in arrears of payments." Students cannot afford to pay because their parents' businesses have gone bankrupt, have become victims of layoffs or have had their salaries cut. Most of them attend small colleges with a student population of 1,000 to 2,000.
Disaster = Quantum Leap
The Covid-19 pandemic has indeed had a significant impact on all aspects of people's lives in the world. History also recorded many giant leaps in human civilization triggered by major calamities, including those in the health sector, for example, smallpox. In the past, people considered smallpox as the most terrifying and, at the same time, deadly disease. Those infected with smallpox will be exiled — including being expelled from the village where they live. According to the History of Vaccine report, in the 18th century, smallpox caused about 10% of England's population to die (www.kontan.co.id). Worldwide, up to the 20th century, smallpox killed at least 300 million people (www.bbc.com).
The enormous tragedy in England actually prompted Edward Jenner, a doctor from rural Berkeley in England, to find a vaccine for smallpox. In the modern era, thanks to Jenner's findings, smallpox is no longer a scary disease anymore. Or even deadly. It became an usual illness, almost like the flu. Many parents hope that their children are infected with smallpox from an early age. Because, after him, they will be immune to smallpox attacks.
A similar phenomenon occurred in discovering the rabies vaccine by Louis Pasteur in late 1885, the diphtheria vaccine by German scientist Emil von Behring (1890), the polio vaccine (Jonas Edward Salk, 1954) and the Measles-Mumps-Rubella vaccine or commonly abbreviated as MMR. History recorded that the five vaccines played a significant role in saving billions of children in the world from infectious diseases, disabilities and even death.
That is what happened in the health sector. The pandemic that took millions of lives prompted great leaps.
Then, how do we take advantage of the Covid-19 pandemic to generate leaps not only for the world of health but also in various other fields - including education?
Jony Haryanto said in a webinar that was held on Thursday, last January. "Previously, we wanted to implement Pelajaran Jarak Jauh (PJJ) or online program, the difficulty was not simple. They had to take care of these permits until they were delayed and finally they didn't happen. Now, with the Covid-19 pandemic, without having to bother managing permits, many campuses and educational institutions automatically implement an online learning system. "
Online learning schemes open up many opportunities for educational institutions. For example, the campus has the opportunity to recruit more students from various regions. In the past, with an offline (face-to-face) learning scheme, the campus could only attract a limited number of students from the region. Many regional students have difficulty with the costs of being able to come and study face-to-face on campus.
Through online learning, this difficulty is resolved. Students from the region, for example, do not need to pay for transportation, boarding rent and other daily necessities. They only need to pay tuition fees.
Online tuition also keeps costs down. For example, campuses no longer need to prepare classrooms, including lights, air conditioning and various other devices. These cut tuition fees down — maybe half. As a result, tuition fees are becoming increasingly affordable.
Can Recruit More Students
According to data from the Directorate General of Higher Education, Ministry of Education and Culture, out of 2-3 million SMA or SMK graduates, only 38% can continue their education to a higher level (www.kompas.com). This is relatively low. One of the reasons is the high cost of tuition in universities. If tuition fees cut in half, of course, there will be more high school or vocational school graduates who can continue their education to higher education.
So, the online lecture scheme makes an opportunity for the campus to recruit more students from the region and even outside the country's territory. This has done by many well-known universities abroad, such as Harvard University, Stanford University, MIT, Michigan State University, and many others.
Unfortunately, not many campuses in Indonesia can take advantage of these opportunities. Never mind increasing students' number; many campuses, especially small campuses, are not even ready to hold an online lecture scheme. So, do not be surprised if they are overwhelmed and ultimately unable to finance their operational activities.
Thus, new success occurs when the opportunity comes; we are ready to welcome it. If there is no readiness, chances are only opportunities. He just passed by without us being able to catch him.
This is undoubtedly a cause for concern. Campus, which incidentally is an educational institution where people can learn many things, fails to educate themselves to be more adaptive and agile towards change. Among other things, changes triggered by the Covid-19 pandemic.
For campuses that can survive, how can they take advantage of the pandemic to do the leapfrog? Abdul Wahid Maktub, the special adviser to the Minister of Research, Technology and Higher Education (2015-2020), suggests this. Campus, he said, needs to return to its essence. "The essence of education is to help students to know themselves and their environment. So, they do not teach them just to memorize, but they must also be able to relate data to phenomena that occur in society, so that students are able to have predictive thinking, "explained Abdul Wahid, at length.
Abdul Wahid Maktub.
Source: www.youtube.com
Budi Susilo Soepandji.
Source: Doc. PresUniv
SD Darmono.
Source: Doc. Jababeka
Abdul Wahid was also one of the speakers in Peluang di Masa Pandemi untuk Leapfrog dalam Pendidikan, last Thursday. He said again, "Many educational institutions only make students smart for a moment, but when changes occur, they don't have the endurance. So, it is important for educational institutions to provide character education, confidence, independence, endurance, including being able to communicate and collaborate. "
Other speakers in the webinar were Prof. Dr. Ir. Budi Susilo Soepandji, DEA, Governor of the National Defense Institute (2011-2016) who is currently the Chair of the Yayasan Pendidikan Universitas Presiden. According to Prof. Budi, campuses need to take advantage of this pandemic to become more collaborative with the industrial world. "So, research carried out by campuses must be related to industrial needs. Not only for his own needs, "said Prof. Budi.
Meanwhile, SD Darmono, founder of President University and the Jababeka Group, who also participated in the discussion at the webinar, emphasized the availability of internet networks as a critical factor in frog jumping in the world of education. "With the internet, we can learn with anyone, from anywhere, anytime, online. These make lecture activities more flexible," he said.
Then, related to the pandemic, Darmono saw it this way. The pandemic has indeed made many companies difficult. One of them is the difficulty to pay its employees. "With a more flexible lecture system, students can actually work in these companies. They can work while continuing to learn. Because while studying, companies may not have to pay students a price that is too expensive. So, this is a win-win situation. Companies, which are facing hardships due to the pandemic, can find workforce at competitive wages. Meanwhile, on the other hand, students who need money to pay tuition fees can work while continuing to study, "he explained.
He closed his presentation by emphasizing, "If knowledge is not practiced, it will not make us smarter."
Those are some frog jumping ideas that the world of education needs to do during the Covid-19 pandemic. Please choose which one is more suitable. (JBS and Silvia Desi Betrice, PR team).