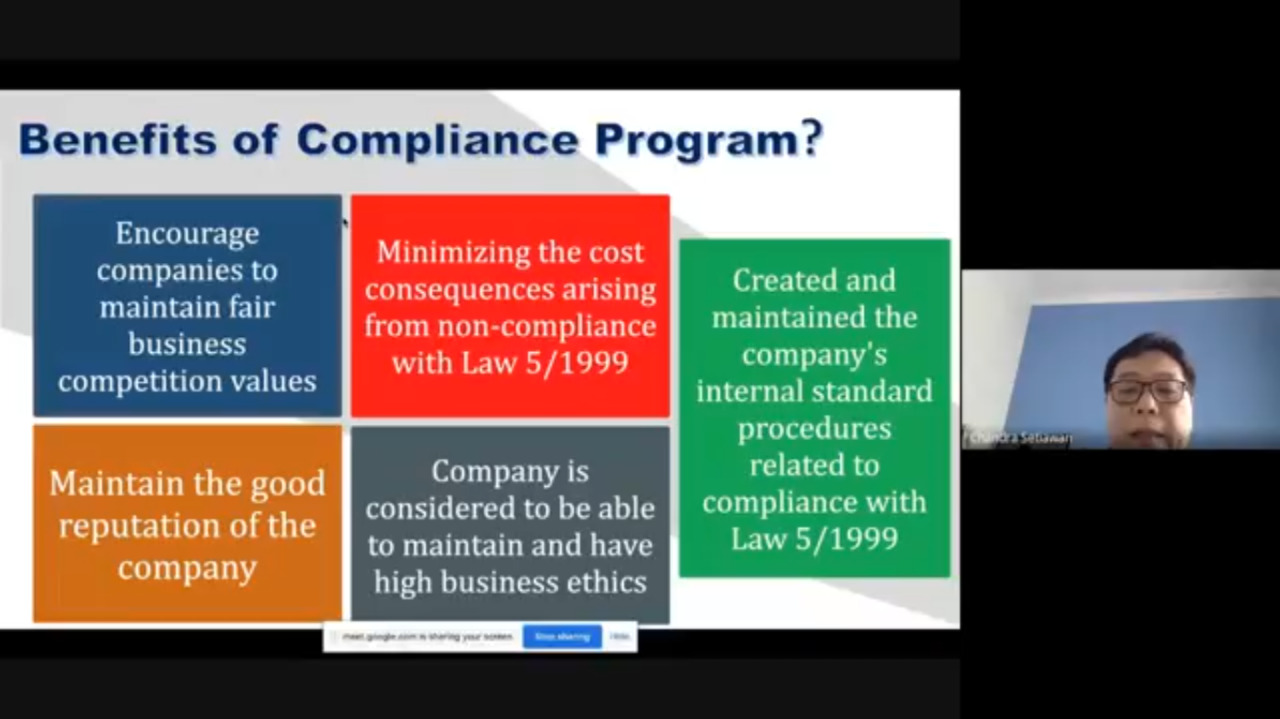 The Indonesia Competition Commission's Role in Re-opening Business After COVID-19
8 Jul, 2020
The global economy is slowing down following the WHO announcement stating that COVID-19 is a pandemic that impacts all business sectors. Although some sectors have experienced an increasing sales, such as health or IT, other business sectors that are closely related to human interaction, such as tourism or non-food retailing, have experienced quite challenging difficulties due to the implementation of social distancing. The government discourse to re-open business activities while promoting the health protocol in June 2020, has given hope for business actors to start the economic activity again. On the other hand, business actors face challenges and risks of how to work by practicing high standards of health protocol while the COVID-19 outbreak has not ended completely. In addition, businesses will also be faced with technical challenges, such as scarcity of raw materials, disruption of distribution process or other technical problems. In this case, the Indonesia Competition Commission (ICC, or domestically known as KPPU) plays a role to ensure that the new business climate can run well without violating existing business competition laws. ICC also plays a role to respond quickly to issues of product/goods scarcity that occurred some time ago.
Dr. Drs. Chandra Setiawan, M.M., Ph.D., ICC commissioner was presented at President University Webinar Series: Business Insights last week (6/26) to explain the risk and compliance of competition law as well as the ICC's role. Chandra explained ICC's duties and authorities, namely law enforcement (investigation or examination of alleged unfair business competition), advocacy (prevention, has the obligation to provide advice or consideration to the government as a policymaker so that the policy always pays attention to fair business competition), merger control (ICC receives and evaluates notifications, merger consultations), and partnership supervision.
Furthermore, Chandra explained the benefits of fair business competition for business actors. "For business actors, they can access business markets more open and create greater opportunities to do business that leads to efficient allocation of business resources. It is different from the New Order era where only certain groups could access the business market," he explained. Chandra also mentioned that competition will produce innovation. Not only for business actors, but business competition also has huge benefits for consumers. "If there is no competition, of course, the producer will only produce a few products which benefit them. But with the competition, there are product variations. Then, the price of a product or service tends to be equivalent to its quality, "Chandra said. He also mentioned that with the presence of business competition, consumers became the price maker.
Chandra said that Law No. 5 Year 1999 became one of KPPU's guidelines in carrying out its duties. In the Law, prohibited agreements, prohibited activities, and dominant positions that deemed violating the law among others are cartel practices, price fixing, monopoly, abuse of dominant positions that can occur through mergers, acquisitions, and consolidations, and many more. The Law also states that sanctions can be given by KPPU.
Through the pandemic crisis, Chandra mentioned that collaboration between competitors is likely to rise during a crisis, they may even be promoted by governments. The ICC then ensures that such collaborations do not spill over into hard-core restrictions of competition such as cartel or price fixing. (SL)